Medical Pedicures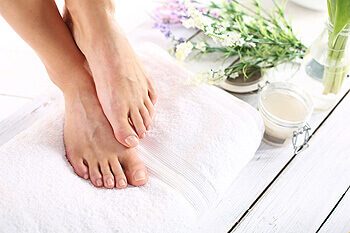 Medical Pedicures at Boston Common Podiatry
Receive top-rated foot and nail care with the option to be evaluated by an expert podiatrist! Along with our general medical, surgical, and aesthetic podiatry services, Boston Common Podiatry also offers physician-supervised, safe, and sterile medical pedicures that include a consultation and treatment with the doctor if requested.
Our medical-grade pedicure includes a noninvasive treatment that focuses on the hygienic and aesthetic care of the toenails and soles of the feet. These treatments are the Keryflex™ Nail Restoration System and an EPAT massage.
Keryflex™ Nail Restoration System
The Keryflex™ Nail Restoration System is an innovative new solution available to treat toenails damaged by fungus, infection or injury and restore them to their original appearance. Keryflex™ utilizes polymer resins that bond to the damaged toenail to form an artificial nail that is durable, flexible, and natural in appearance. The painless procedure can be done in the comfort of the office.
The Keryflex™ Nail Restoration System allows for the patient to immediately return to regular daily activities post-procedure. Patients may also receive pedicures or apply nail polish to their Keryflex™ nail.
EPAT Massage
Extracorporeal Pulse Activation Technology (EPAT) Therapy is traditionally used to accelerate the body's natural healing process. This is done by using pressure waves to treat and heal internal pain typically caused by conditions such as plantar fasciitis, stress fractures, and tendonitis. In addition to healing pain and injuries, EPAT can also be used for massage to ease tense muscles.