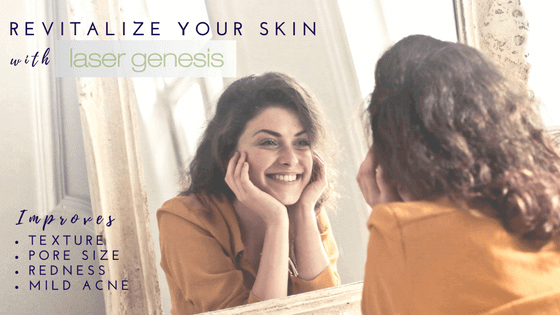 One part laser + one part facial = reverse signs of aging
Our advanced laser rejuvenation treatment is a safe and gentle option that treats a variety of skin conditions.
What skin conditions does the Laser Facial treat?
reduces redness
evens skin tone
softens fine lines and wrinkles
smoothens scars
reduces pore size
promotes collagen and elastin production
What are the possible side effects of Laser Facial?
The Laser Facial treatment is popularly known as a 'lunch-time' facial, because it's considered a minimally invasive treatment. Clients can return to work and resume most normal activities immediately post-treatment. There may be a slight redness that should disappear within a few hours of treatment.
What kind of improvements can you expect with Laser Facial?
Over the course of 3 to 6 treatments, Laser Facial can help restore the skin's youthful glow and appearance by smoothing out uneven textures caused by aging, sun damage or scars. You will see a more youthful, healthy complexion emerge as large pores are reduced in size, and redness diffused. Although individual treatment results are subtle, the overall effect of multiple treatments can be quite dramatic.
What areas can be treated with Laser Facial?
Any part of the body can be treated, but the most common area is the face. Boston Common offers multi-area packages, such as face, neck and décolletage. Another popular body area to treat is the back of the hands due to their extensive exposure to sun. Scars (including mild acne) on the body may also benefit from treatment.
Can the Laser Facial help with diffused redness?
Diffused redness is a general appearance of facial redness, such as rosy cheeks. This condition is caused by dilated capillaries, resulting in an appearance of general redness and/or flushing. The most commonly affected areas are the nose, forehead and cheeks. Diffused redness is often associated with a condition called rosacea (which may be hereditary). Laser Facial can help manage the condition by gently treating and reducing its condition.
What does the Laser Facial procedure feel like?
Most people find the Laser Facial to be a relaxing experience and it is popularly referred to as a lunch-time facial. At Boston Common, we refer to it as our laser facial. As it gently warms the skin as it feels more like a facial than an intense laser treatment. there is no discomfort and there is little, to no, downtime and provides instant results that you can see and feel. You can expect to return to your daily activities, immediately following the treatment.
Number of treatments
A series of four to six Laser Facial treatments is recommended to achieve an optimal outcome, and ongoing maintenance treatments are encouraged to sustain results over time. We will devise and discuss a treatment plan during your consultation.
Real Results